Universal Love

Artists are privileged people. As a gift of nature, they possess a sense of beauty. Their expression is with an unbelievably high level of perfection and artistic scrupulousness. Parvin, a sensible French artist of Iranian origin, presents us with the magic of beauty through her paintings. Parvin's aquarelles, with tender and lyrical fluidity, glorify love and peace - the eternal aspiration of mankind.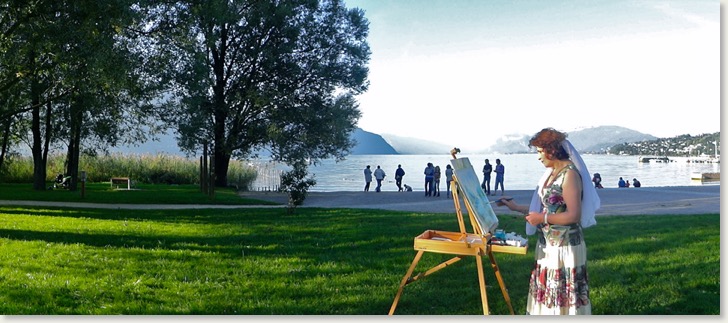 Parvin's expert hand creates beautiful harmony of incredibly tinted colors, gentle and colorful overtones and magnificent variations. Her paintings represent a rhythmic elegance of light and the azure of the lake waters. Moreover, they represent a bridge towards love and peace. (...)
In these bleak times, the juicy colors radiating from her works mean love, joy, freedom and peace. Through her motifs and landscape, Parvin is fighting the flaws and vices of this world, with greed and human misery. The beauty of the swan and the wings of the dove are the symbols of true peace to be delivered by God. Such is Parvin's vision - peace in heaven and earth, peace for the mankind, love and peace for every soul on this planet. Universal love and peace are, in fact, the main motto of her art.


Stefan Dimovski - journalist - Ohrid, 31 st August 2000



Femme de Paix

Parvin Hatam est une ambassadrice de la Paix et de la Culture. L'exposition qu'elle présente, galerie des artistes, a pour thème: "La Femme et la Paix". Douceur des couleurs, lumière, tendresse et charme des femmes de tous les pays illuminent ses aquarelles qu'elle réalise selon une technique bien particulière, "au doigt". "Je travail en même temps avec mes doigts et avec le pinceau. Je le fais tout à fait spontanément, naturellement" explique Parvin Hatam qui a choisi l'aquarelle pour représenter la Paix, technique plus "tendre, plus lumineuse" et la femme "être positif, symbole de beauté".
Cette artiste, d'origine d'Azerbaidjan, une région du Nord de l'Iran, a étudié à l'école des Beaux-Arts de Grenoble, et fait partie de l'Union Artistique de Chambéry. Parvin Hatam voyage beaucoup. Elle se rend notamment régulièrement en Macédoine et en Europe de l'Est où elle travaille bénévolement pour les centres culturels. "Je veux leur apporter de la Joie et l'Optimisme à travers ma peinture, et je fais la promotion de ces pays l'orsque je vais à l'étranger".

S.E. journaliste "Le Dauphiné Libéré" France 2002